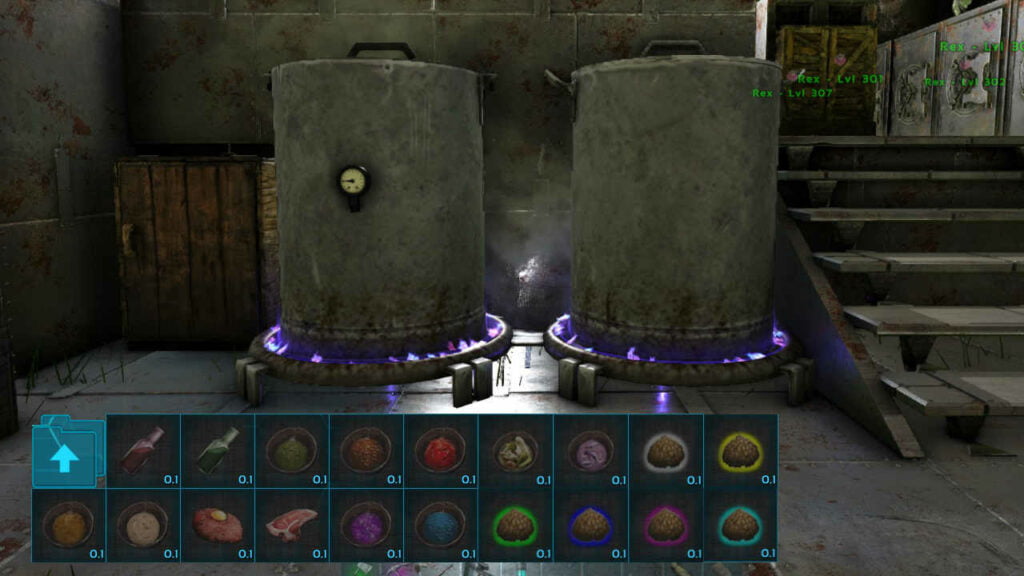 The industrial Cooker is an upgraded version of the Cooking Pot. You need to put Gasoline in the inventory to use it. To craft the Industrial Cooker you need to be in level 89 and it cost 60 Engram points. U need to connect the Industrial Cooker to some water, do that by using pipes. You can also craft Dyes in it, so you can paint different things.
Hot to craft Industrial Cooker?
300 x Polymer, Organic Polymer, or Corrupted Nodule
1800 x Metal Ingot, or Scrap Metal Ingot
450 x Cementing Paste or Achatina Paste
300 x Oil
What to craft in Industrial Cooker?
Items
Recourses
Effect
Medical Brew
20 x Tintoberry
2 x Narcotic
1 x Water
+ 40 Health
Energy Brew
20 x Azulberry
2 x Stimulant
1 x Water
+ 40 Stamina
Calien Soup
5 x Citronal
20 x Tintoberry
20 x Amarberry
10 x Mejoberry
2 x Stimulant
1 x Water
+50 Hyperthermic Insulation
-25% Water consumption
Effects last 15 minutes
Enduro Stew
9 x Cooked Meat or Cooked Fish
5 x Rockarrot
5 x Savoroot
10 x Mejoberry
2 x Stimulant
1 x Water
+35% Melee damage
+1,2 Health per second
Effect last 15 minutes
Focal Chili
9 x Cooked Meat or Cooked Fish
5 x Citronal
20 x Amarberry
20 x Azulberry
20 x Tintoberry
10 x Mejoberry
1 x Water
+25% Movement speed
+100% Crafting Skill
Effect last 15 minutes
Fria Curry
5 x Longress
5 x Rockarrot
20 x Azulberry
10 x Mejoberry
2 x Norcotic
1 x Water
+50 Hypothermic insulation
-25% food consumption
Effect last 15 minutes
Lazarus Chowder
9 x Cooked Meat or Cooked Fish
5 x Savroot
5 x Longrass
10 x Mejoberry
2 x Narcotic
1 x Water
-85% Oxygen consumption underwater
+1,2% Stamina per second
Effect last 15 minutes.
Battle Tartare
3 x Raw Prime Meat, Raw Prime Fish Meat, or Raw Mutton
20 x Mejoberry
8 x Stimulant
2 x Rare Flower
1 x Citronal
1 x Longrass
1 x Water
+65% Melee damage
+50% Movement speed
+15% Damage resistance
+50% Stamina regen.
-0,45 Health per second
Effect last 3 minutes.
Shadow Steak Saute
9 x Cooked Meat or Cooked Fish
20 x Mejoberry
8 x Narcotic
2 x Rare Mushroom
1 x Savoroot
1 x Rockarrot
1 x Water
+50 Hypotthermic Insulation
+50 Hyperthermic Insulation
-80% Weapon Recoil
Effects last 3 minutes
Mindwipe Tonic
24 x Cooked Prime Meat, Cooked Prime Fish Meat, Cooked Lamb Chop, or Prime Meat Jerky
200 x Mejoberry
72 x Narcotic
72 x Stimulant
20 x Rare Mushroom
20 x Rare Flower
1 x Water
Resets your engram points and Attributes.
Using once every 24 hours
Broth Of Enlightenment
10 × Mejoberry
2 × Rockarrot
2 × Longrass
2 × Savoroot
2 × Citronal
5 x Deathworm Horn or Woolly Horn
1 x Black Pearls
1 x Water
+50% Increased Experience
Cactus Broth
10 × Mejoberry
30 × Cactus Sap
10 × Azulberry
10 × Amarberry
1 × Water
Reduce water consumption.
Making the wildlife notice you less.
Mushroom Brew
5 × Aggeravic Mushroom
5 × Aquatic Mushroom
5 × Ascerbic Mushroom
5 × Auric Mushroom
3 × Sap
3 × Congealed Gas Ball
1 × Water
Protects your pets from radiation
Basis Kibble
1 × Cooked Meat, Cooked Fish Meat, or Cooked Meat Jerky
10 × Amarberry
1 × Extra Small Egg
5 × Fiber
5 × Mejoberry
10 × Tintoberry
1 × Water
Simple Kibble
1 × Cooked Fish Meat
1 × Small Egg
5 × Fiber
5 × Mejoberry
2 × Rockarrot
1 × Water
Regular Kibble
1 × Cooked Meat Jerky
1 × Medium Egg
5 × Fiber
2 × Longrass
2 × Savoroot
1 × Water
Superior Kibble
2 × Citronal
1 × Prime Meat Jerky
1 × Large Egg
5 × Fiber
2 × Rare Mushroom
1 × Sap
1 × Water
Exceptional Kibble
1 × Extra Large Egg
5 × Fiber
1 × Focal Chili
10 × Mejoberry
1 × Rare Flower
1 × Water
Extraordinary Kibble
1 × Special Egg
5 × Fiber
1 × Giant Bee Honey
1 × Lazarus Chowder
10 × Mejoberry
1 × Water