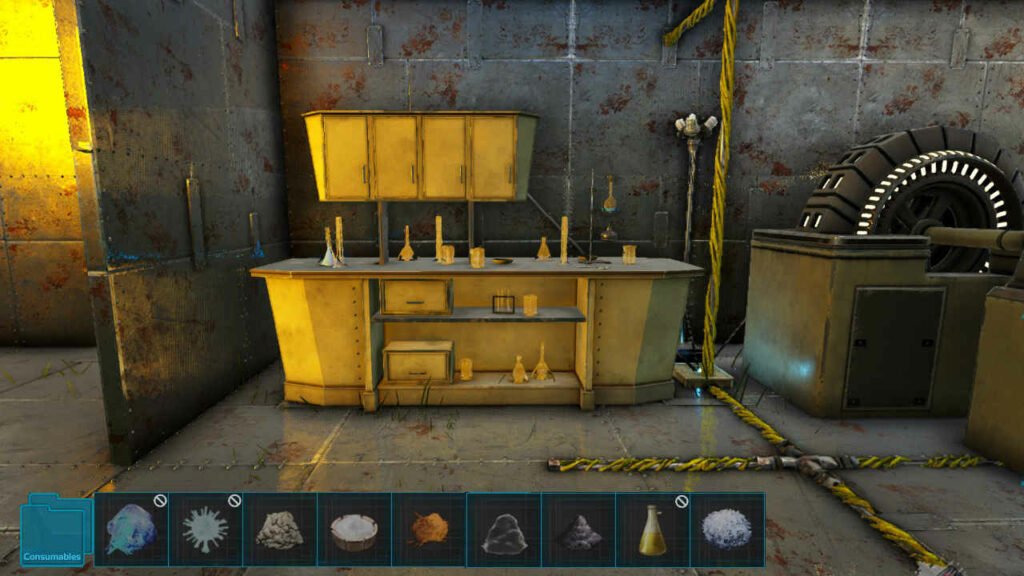 The Chemistry Bench is a upgraded version of Mortar and Pestle. It can be crafted in level 82 and you need to use gasoline to use it.
How to craft the Chemistry Bench?
250 x Cementing Paste
250 x Crystal
250 x Electronics
250 x Metal Ingot
250 x Polymer
100 x Sparkpowder
What can you craft in the Chemistry Bench?
Items
Resources
Crafting Amount
Absorbent Substrate
8 x Black Pearls
8 x Oil
8 x Sap
6
Ceminting Paste
16 x Chitin/Keratin
32 x Stone
6
Clay
4 x Cactus Sap
8 x Sand
12
Gunpowder
4 x Charcoal
4 x Sparkpowder
6
Mutagel
4 x Mutagen
40
Mutagen
800 x Mutagel
6
Preserving Salt
8 x Raw Salt
4 x Sulfur
12
Propellant
4 x Cactus Sap
4 x Oil
4 x Sulfur
6
Sparkpowder
8 x Flint
4 x Stone
12
Bug Repellant
16 x Citronal
8 x Narcotic
24 x Pelt/Hair/Wool
16 x Rockarrot
6
Lesser Antidote
12 x Leech Blood/Horns
4 x Narcotic
40 x Rare Flower
40 x Rare mushroom
6
Narcotic
20 x Narcoberry
4 x Spoiled Meat
6
Stimulant
8 x Sparkpowder
20 x Stimberry
6