DIVI is a theme/pagebuilder for WordPress. Divi has finally released its pagebuilder, which allow you to do tons of new cool stuff with Divi. This guide will show you how to import a theme builder template, this will also work for the Extra theme.
Free Divi Theme Builder Templates
After the Divi theme builder got released, Elegant Themes started to release some free theme builder packs. I will link to the ones i know down below. To see what they look like click on each of the link, you need to click "Get it for free today!"on their page. Then you need to enter your email and click download. There are properly other sites there have made templates for the Divi theme builder as well.
Second FREE Theme Builder Pack
The Third FREE Theme Builder Pack
Fourth FREE Theme Builder Pack
All these templates contains 6 files, and you don't necessarily need to import all of them.
How to import Divi Theme Builder Template files
First you need to unzip the files, by right clicking on the folder and click extract all. Inside the folder should be 6 files.

The "default-website-template" is only the header and footer, the file with "all" in its name is all the files in one so choose this one if you want the whole template. As soon you import the template to your site, it will be visible on the site. The templates its only an template so you still need to make some changes to it. So i would not recommend you to import it to a live site with there have lots of visitors.
First of all you need to have the newest version of the Divi or Extra theme installed onto your site of course.
Then click on the Divi icon on the left side inside the WordPress Dashboard and then choose theme builder. In the Extra theme you need to click Extra and then theme builder.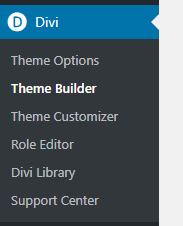 Now you are inside the Divi theme builder, then you need to click on the 2 arrows in the top right corner (also called portability).

Then a new box will appear make sure to click import. Click on no file selected and choose the file you want to import, after that just click on "Import Divi Theme Builder Templates". Then the files will load and you can start changing the template, so it fits your page.